We supply high quality SFE130KRP Woodworking Planer and Sanding Machine
1.Product show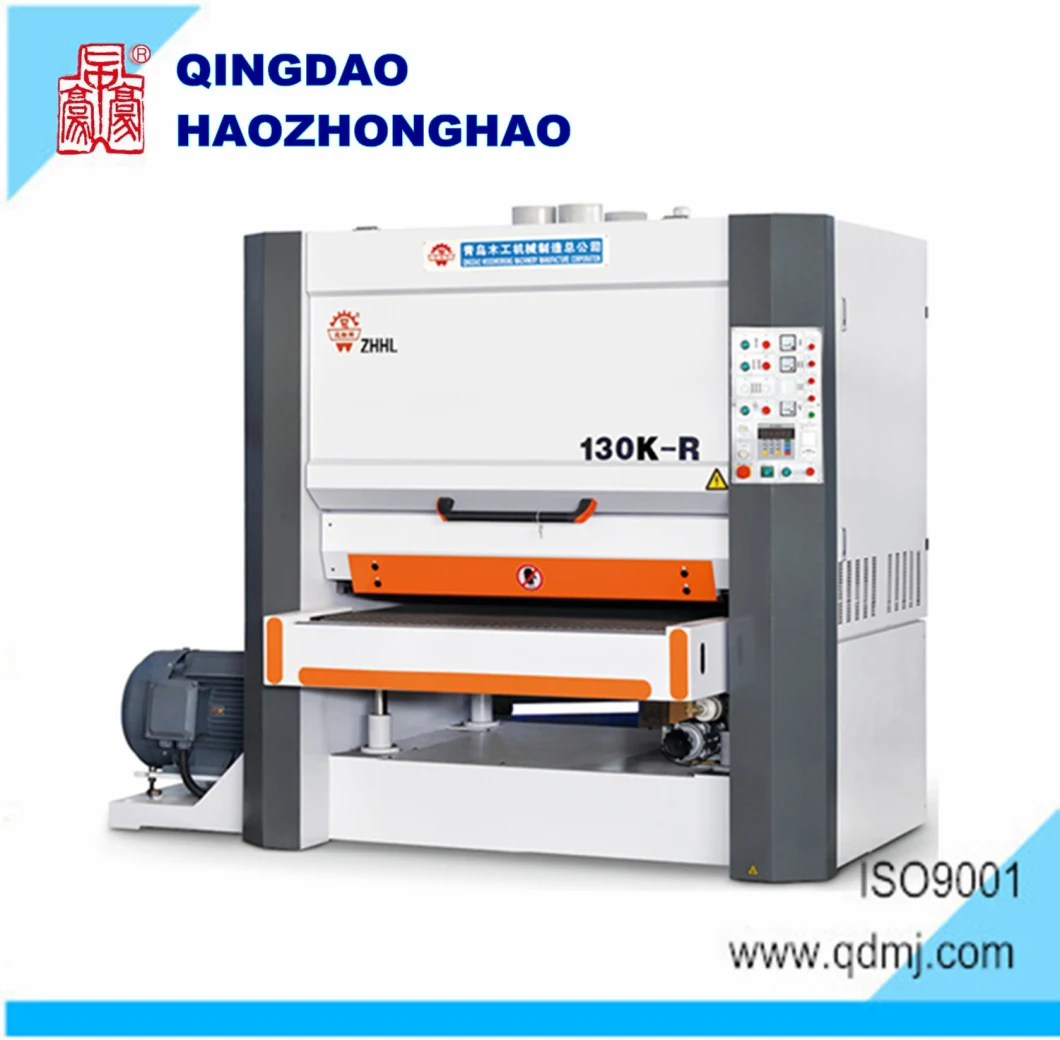 2.Product Description
| | | | |
| --- | --- | --- | --- |
| Model | SFE130KRP | SFE130KR | SFE100KRP |
| Width of sanded panel | 40-1300mm | 40-1300mm | 40-1000mm |
| Thickness of sanded panel | 3-120mm | 3-120mm | 3-120mm |
| Speed of planing roller | 30m/s | 30m/s | 30m/s |
| Speed of abrasive belt on 2nd unit | 18m/s | 18m/s | 18m/s |
| Speed of abrasive belt on 3rd unit | 12m/s | -- | 12m/s |
| Feeding speed | 6-30m/min | 6-30m/min | 6-30m/min |
| Size of abrasive belt | 1330×2500mm | 1330×2500mm | 1330×2500mm |
| Diameter of planer | Φ180mm | Φ180mm | Φ180mm |
| Roller diameter | Φ270mm | Φ270mm | Φ270mm |
| Power of planing roller | 22kw | 22kw | 18.5kw |
| Power of abrasive belt on 2nd unit | 22kw | 22kw | 18.5kw |
| Power of abrasive belt on 3rd unit | 15kw | -- | 11kw |
| Conveyor motor power | 4Kw | 4Kw | 4Kw |
| Lifting motor power | 0.25Kw | 0.25Kw | 0.25Kw |
| Brush motor power | 0.37Kw | 0.37Kw | 0.37Kw |
| Working pressure | 0.55MPa | 0.55MPa | 0.55MPa |
| Compressed air consumption | 0.2m3/h | 0.2m3/h | 0.2m3/h |
| Pressure relief device required | >13000m3/h | >13000m3/h | >13000m3/h |
| Speed required for cleaning equipment | 25-30m/s | 25-30m/s | 25-30m/s |
| Dimensions | 2500×2260×2180mm | 2500×1850×2180mm | 2500×1960×2180mm |
| N.W. | 4000kg | 3500kg | 3500kg |
3. Function and Characteristics:

This machine is mainly used for solid wood board, panel, finger joined panel, door, flooring etc, with advanced technology, high precision, reasonable structure and easy operation

1With super large helical cutter can work stable
2 Cut off a big quantity with lower noisy and fine surface
3 With anti-tick device to protect operator
4 Wooden dusts is cleaned by the brusher
5 Machine will not start when air pressure is not enough.
6 Adopt pressure shoes to avoid damaging the head of panel during sanding

4.Machine details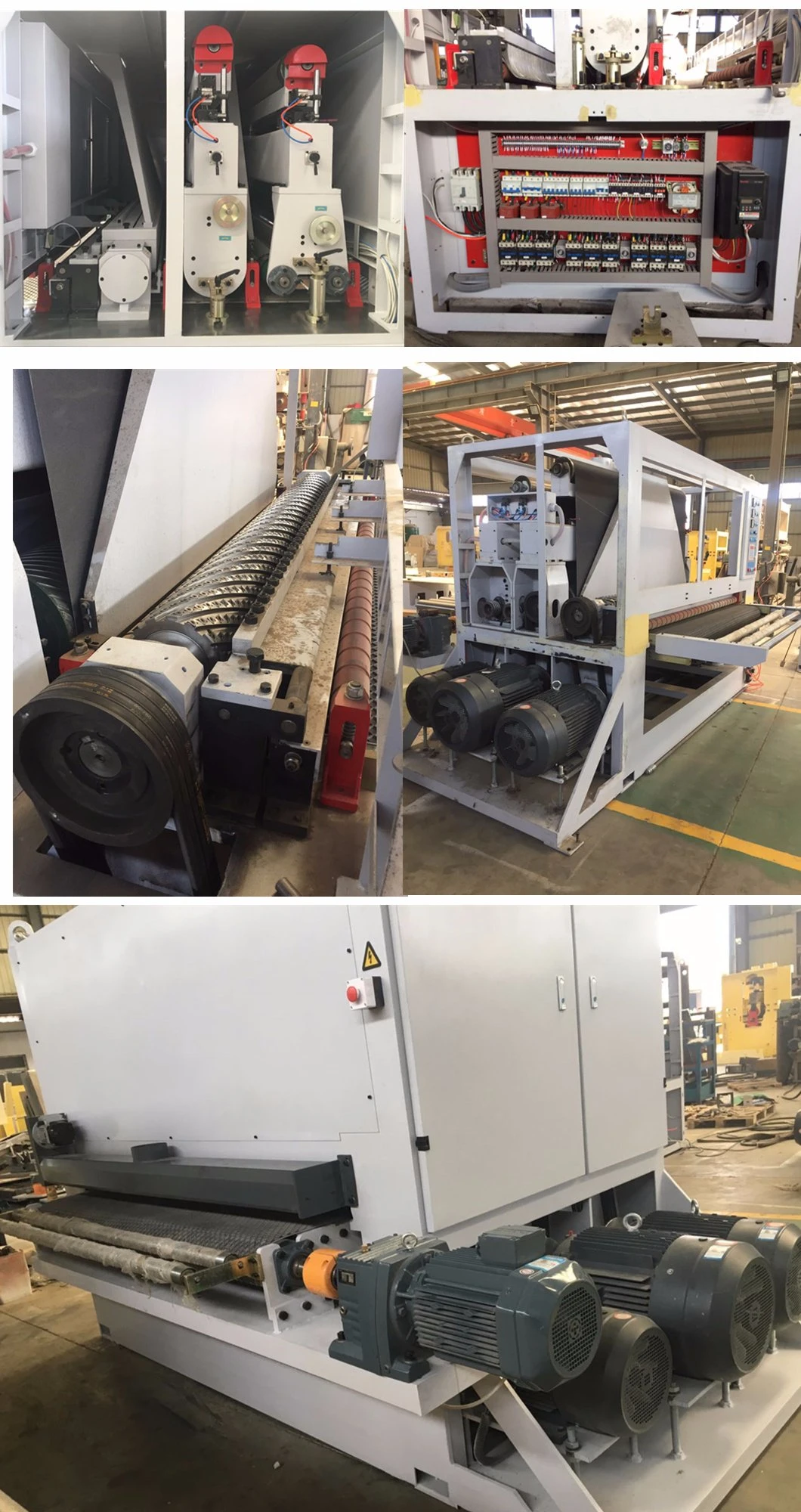 5.Company Information
Qingdao Haozhonghao Woodworking Machinery Co., Ltd. previously was Qingdao Woodworking Machinery Manufacturing Company, and was established in 1958.
With more than 50 year experience in making woodworking machines, our main products are Sanding Machine, Panel Saw, Guillotine, Veneer Slicer and Grinder. We firstly put BB1342 vertical slicer into the market in China. We developed BB1135B Horizontal Veneer slicer by integrating the internal and international technologies, the max slicing width reaches 1300mm. We are the first company which was certified by ISO9001 in the industry, and also a hi-tech enterprise in Qingdao.

We have more than ten years experiences in exporting high quality woodworking machinery, especially Sanding Machine, Veneer Slicer and Grinder.
Our website is sandingmachine.en.made-in-china.com; you could get more information about our company and our products.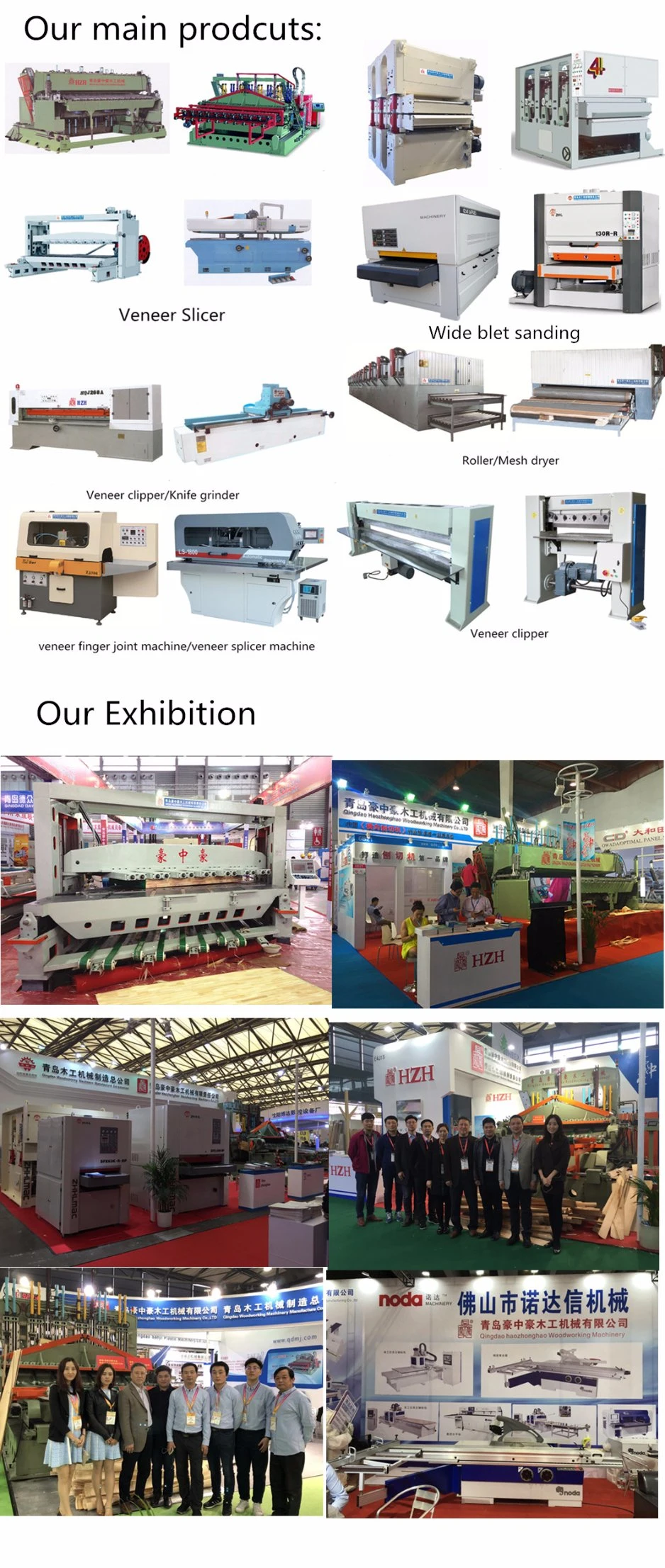 6.Packaging & Shipping