We supply high quality BSG130R-RP
Woodworking Plywood Furniture Machine CalibratingWide Belt Sanding Machine
1. Product show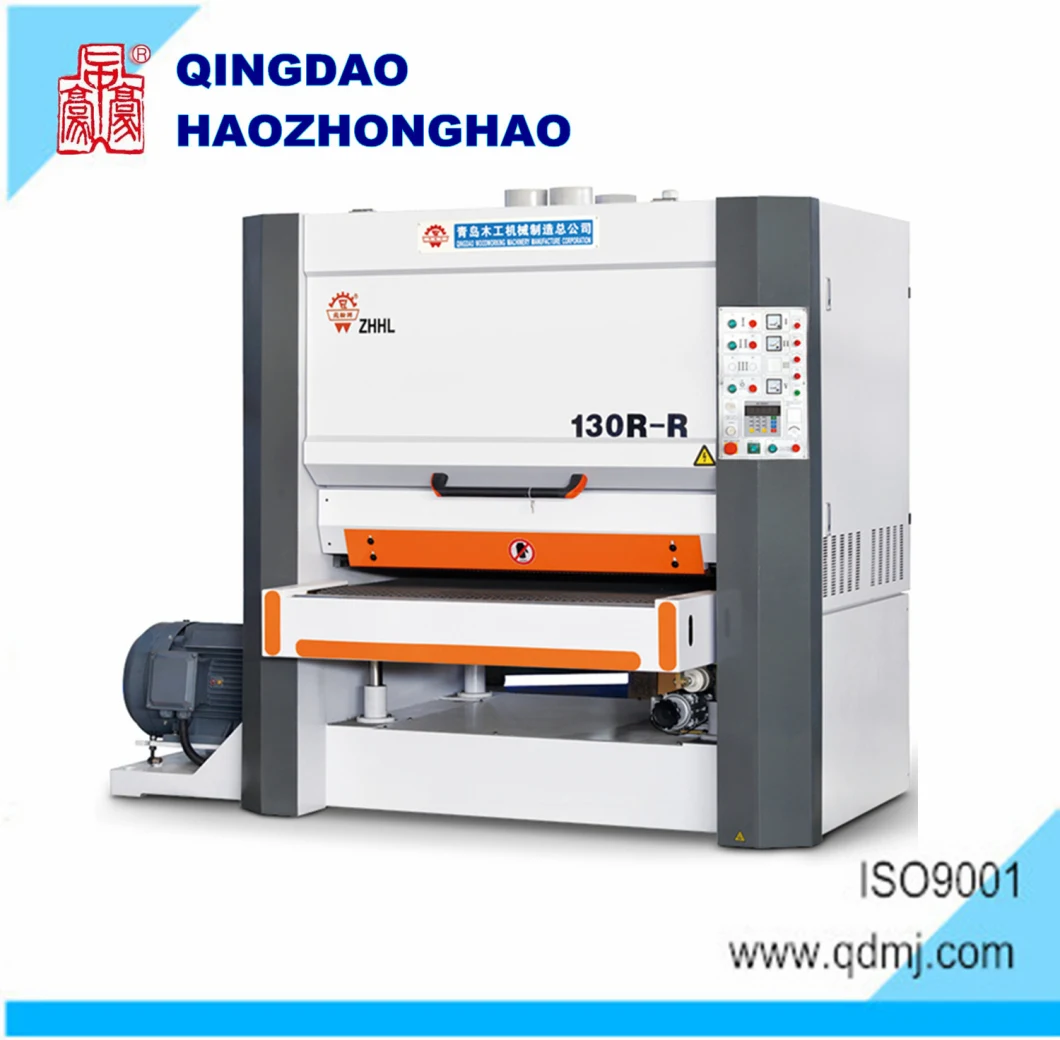 2. Product Description
| | | |
| --- | --- | --- |
| Model | BSG130R-RP | BSG130RP-P |
| Width of sanded panel | 40-1300mm | 40-1300mm |
| Thickness of sanded panel | 3-120mm | 3-120mm |
| Speed of abrasive belt on 1st unit | 18m/s | 18m/s |
| Speed of abrasive belt on 2ND unit | 12m/s | 12m/s |
| Feed speed | 6-30m/min | 6-30m/min |
| Size of abrasive belt | 1330*2500mm | 1330*2500mm |
| Diameter of 1st roller | Φ240mm | Φ240mm |
| Diameter of 2ND roller | Φ210mm | -- |
| Total power | 63.62Kw | 39.82kw |
| Power of abrasive belt on 1st unit | 37Kw | 22Kw |
| Power of abrasive belt on 2ND unit | 22Kw | 15Kw |
| Conveyer motor power | 4Kw | 2.2Kw |
| Lifting motor power | 0.25Kw | 0.25Kw |
| Brush motor power | 0.37Kw | 0.37Kw |
| Pressure | 0.55MPa | 0.55MPa |
| Compressed air consumption | 0.2m³/min | 0.2m³/min |
| Compressed air volume | >8000m³/h | >8000m³/h |
| Speed required for cleaning equipment | 25-30m/s | 25-30m/s |
| Exhaust tube diameter(sanding roller) | Φ200mm*2 | Φ200mm*2 |
| Exhaust tube diameter(brush roller) | Φ150mm | Φ150mm |
| Weight | 3200Kg | 3000Kg |
| Overall dimension | 2600*2020*2130mm | 2525*2020*2100mm |
| Voltage | 380V 50Hz | 380V 50Hz |
3. Function and Characteristics:
(1) It is suitable for calibrating and fine sanding laminate lumber, composite board, particle board, solid wood, panel furniture, bamboo floor, wood door and etc. It is one of the necessary equipment for integrated wood and furniture manufacturing.
(2) R-RP model: The first roller is steel roller; The second unit is 85

°

rubber roller with air sanding pad. RP-P model: The first unit is rubber roller with sanding pad; The second unit is air sanding pad.
Steel roller is for calibration sanding and rubber roller is for fine polishing.
(3) The pressing roller protects device to keep the board on the feeding table, which keep the operators safe.
4. Standard installation:
(1). Sanding belt automatic centering.
(2). Pneumatic sanding pad
(3). Digital thickness display
(4). Brush roller cleaning the panel after sanding
(5). Press shoes and press roller guarantee feeding work pieces stably
(6). Japanese NSK internal bearing reduce vibration of belt
(7). Germany Schneider Electrical component
(8). Automatic air blower on sanding belt to prolong the life time of sanding belt
(9). Position indicator wheel ensures precise adjustment of sanding pad
(10). Automatic centering equipment which control vibrating of abrasive belt along center.

5. Machine details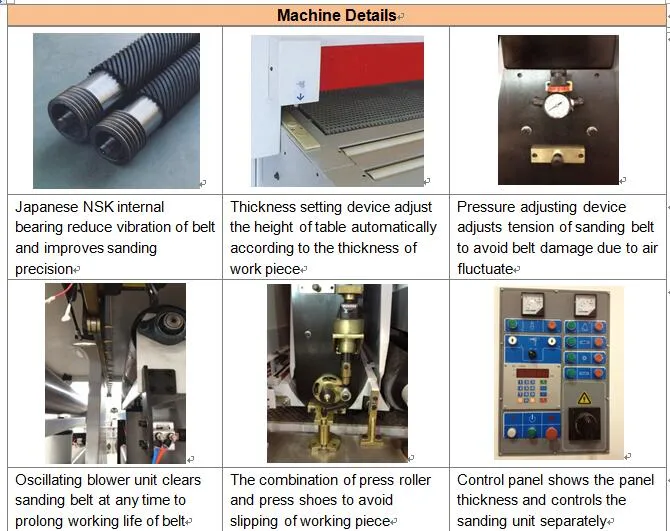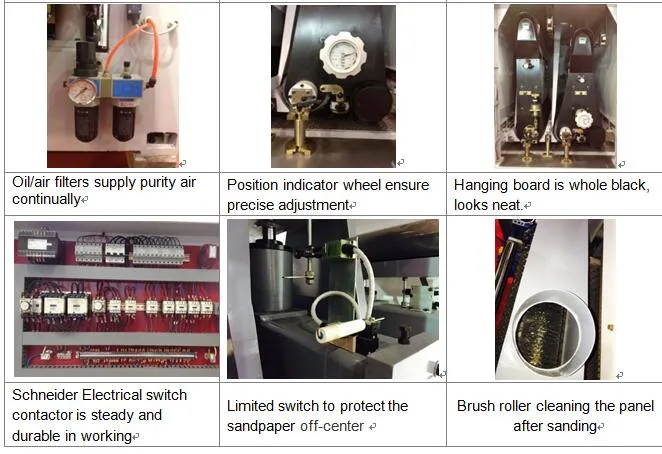 6. Company Information
Qingdao Haozhonghao Woodworking Machinery Co., Ltd. Previously was Qingdao Woodworking Machinery Manufacturing Company, and was established in 1958.
With more than 50 year experience in making woodworking machines, our main products are Sanding Machine, Panel Saw, Guillotine, Veneer Slicer and Grinder. We firstly put BB1342 vertical slicer into the market in China. We developed BB1135B Horizontal Veneer slicer by integrating the internal and international technologies, the max slicing width reaches 1300mm. We are the first company which was certified by ISO9001 in the industry, and also a hi-tech enterprise in Qingdao.

We have more than ten years experiences in exporting high quality woodworking machinery, especially Sanding Machine, Veneer Slicer and Grinder.
Our website is www. Qdmj. COM; You could get more information about our company and our products.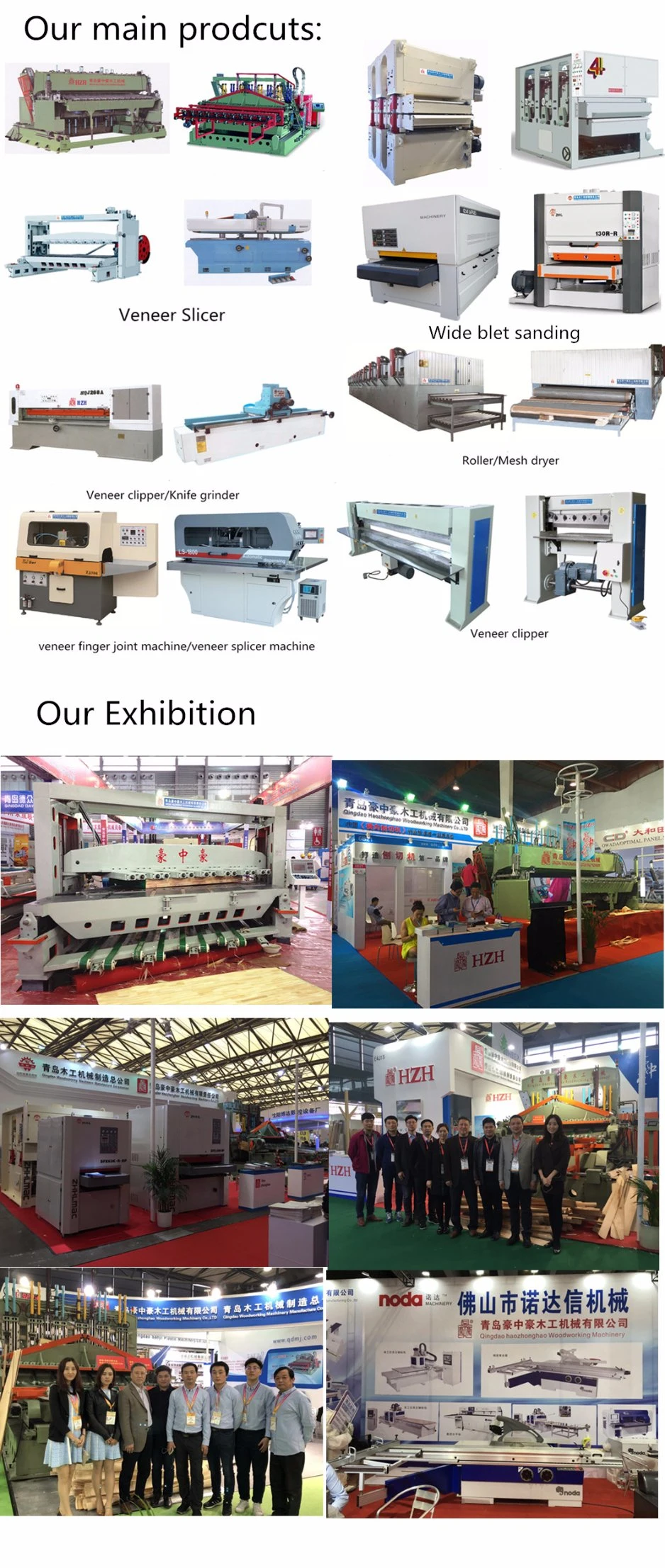 7. Packaging & Shipping