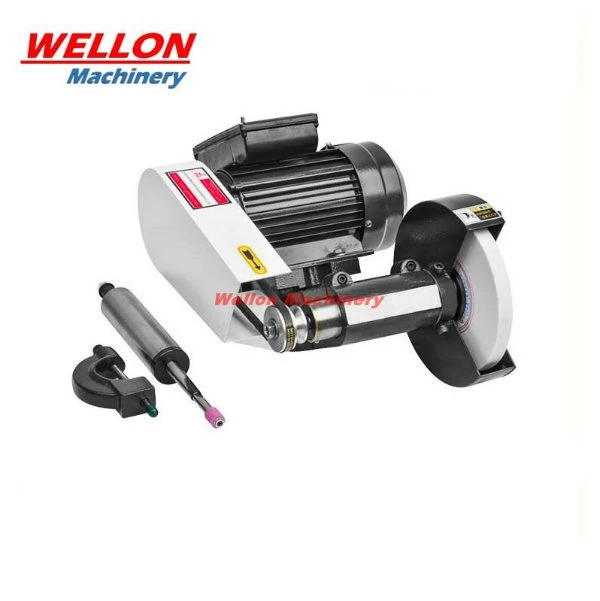 Performence Features:
1,Both the main shafts have been specially designed and the world-wide precision bearing is used to fit the main shafts which are made of alloy steel heat-treated for high wear resistance ,precision .As well as maintaining to the lowest temperature for durability and stability .
2,The motor base and the spindle bushing are adjustable .
3,The motor is well designed with a special and nice appearance .The RPM of the motor varies depending in the size work piece.
4,The grinder is capable of grinding the work piece to a minimum of 3mm in outer diameter and from 2mm up in inner diameter (bore) with the accuracy within 0.003mm and a well finished surface (supplied with special attachments)
5,The spindle bushing in made of cost iron .And supported by three surfaces therefor it is durable and elastic .
6,Materials such as steel ,iron ,copper(brass) ,aluminum ,cast iron ,plastics ,porcelain ,marble ,regarless of beingheat treated or not. Can be grond on this machine which function lie a cylindrical grinder so it may lower the cost of the production.
Technical parameter:
| | |
| --- | --- |
| Specification of Lathe tool Grinder | GD-125 |
| Internal grinding spindle | 25*16*6mm |
| Grinding depth | 3-90mm |
| Installation dimension(center hole) | 25*40mm |
| Wheel diameter size | 125*32*20mm |
| Diameter | 32mm |
| Voltage | 220V/380V |
| Horse power | 750W 50HZ |
| Speed(outer) | 1400RPM |
| Speed(inner) | 12000RPM |